What you can expect from our getaways......

*Crop Room Open around the clock

*Fewer distractions for non-interrupted scrapbooking. *Unlimited snacks and drinks for all events. Variety of individually wrapped snacks, crackers, chips, cookies, nuts, etc. Water, tea, and a variety of Coke or Pepsi products. Coffee also available.*Lunch and/or Dinner provided on Saturday (different options available for certain locations)*Tool table... scrapbooking tools for everyone to use, Sizzix Big Kick and Cricut Explore with subscription to Design Space*6 ft length cropping space for each cropper. Width of tables are about 27-30" Some tables will be wider depending on location. *Electrical outlets at each table*Swap and scrap table (discard your unwanted items and choose other items you may need)

*Vendors welcome. $10 for 6ft x 30inch table space. Only one vendor per Company at each event. Email Rebecca@scraptabulousgetaways.com for registration. If you are joining us for the crop, then vendor registration fee is free. * Locations conveniently located near major highways for easy access. *Hotel accommodations need to be made separately. Use Hotel link or phone numbers on our website to book your room and ask for the Scraptabulous Getaways group rate. (Hotel rates depend on peak seasons) Be sure to book Hotel room at least eight weeks in advance due to rate increase or no availability. *Games, Prizes, Giveaways and Raffles. Games are optional and are set up as to not interrupt our scrappers.*Special Vendors at certain events: Close to My Heart, Stampin Up, Thirty-One Gifts, In Style Scrapbooks, Creative Memories, Kiwi Lane, Don't Worry Keep Scrappin', and Ruby Ribbon. Massage Therapist also available at certain locations.
*Great Cancellation Policy! Cancellations made at least 10 days prior to crop will be refunded minus a $5 processing fee per transaction. All other cancellations with less than 10 days notice will have a $20 processing fee per person. Unfortunately, NO refunds given for cancellations made on Thursday, the day before the crop. *Payment options: Paypal or credit card on website using drop-down menu options; request to have invoice sent by emailing me at Rebecca@scraptabulousgetaways.com ; or pay by check (Make check payable to Scraptabulous Getaways) and send to 4125 Eola Ave Titusville, FL 32796. We offer payment plans for all our croppers. Just email us and we will set it up for you. *Temperature: Please dress in layers in case you get too hot or too cold - we all have different climate controls! We would strongly recommend a t-shirt under long sleeves or maybe a sweatshirt/sweater. *Seating Arrangements: Each Attendee will have their own 6ft length of table space. Seating arrangements are pre-arranged according to whom you have requested to sit with. Reserved spots by request (first come -first served)*Stuff, Stuff and more Stuff! Please keep in mind how many bags you bring as space gets tight around our tables. Be courteous to your neighbor as to leave enough room for chairs.
*Our goal is to provide a relaxing and fun atmosphere for all our croppers. Larger space with less crowds is our motto. We also want to provide an affordable weekend getaway that will be unforgettable.
HAVE FUN! FEEL FREE TO ASK US IF YOU NEED ANYTHING! WE ARE HERE TO MAKE THIS A FUN AND RELAXING EXPERIENCE!

GOOD TIMES, GOOD FRIENDS, GREAT MEMORIES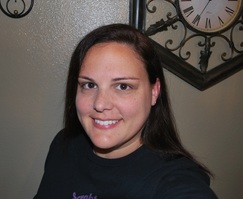 Rebecca Sparks is the Event Organizer and Founder of Scraptabulous Getaways LLC

I am a passionate scrapbooker with an obsession for retreats and a love for planning events. What started out as a little idea, while attending a crop in Tampa, that I would love to host a crop on the East Coast of Florida, has now become an exciting adventure for me and my family.

Born and raised on the Space Coast, with a love for beaches, flip flops and scrapbooking, I am also a proud mother of two, with a full-time job and several other school, sport and community activities as well. So trying to squeeze in a little scrapbooking can be difficult. In reality, it was that need for time away from distraction and responsibility that sparked my love of retreats to begin with. So I have been blessed with having met so many wonderful croppers, and new scrapbooking friends, that I am now able to share my most favorite hobby with. So when you ask me "Why I Love Scrapbooking Retreats?" I have a long list of reasons.



---